From an email dated 8/1/2006
Hi, My name is Chuck Whelan and I served aboard the Warrington from Sept. 1969-March 71 and I was wondering if this particular picture was taken in Nam or on one of our Med cruises? I see Bartelman looking scruffy, LOL! I was a deck hand also and with the Asroc Security team. I'm going to try to make the reunion next year. I'll let Mr. "T", Rich Tierney know and maybe he & I will come together. He lives in Detroit & I in Northwest Indiana. Keep in touch!
Take care,
Chuck
"The Irish Hot Rod"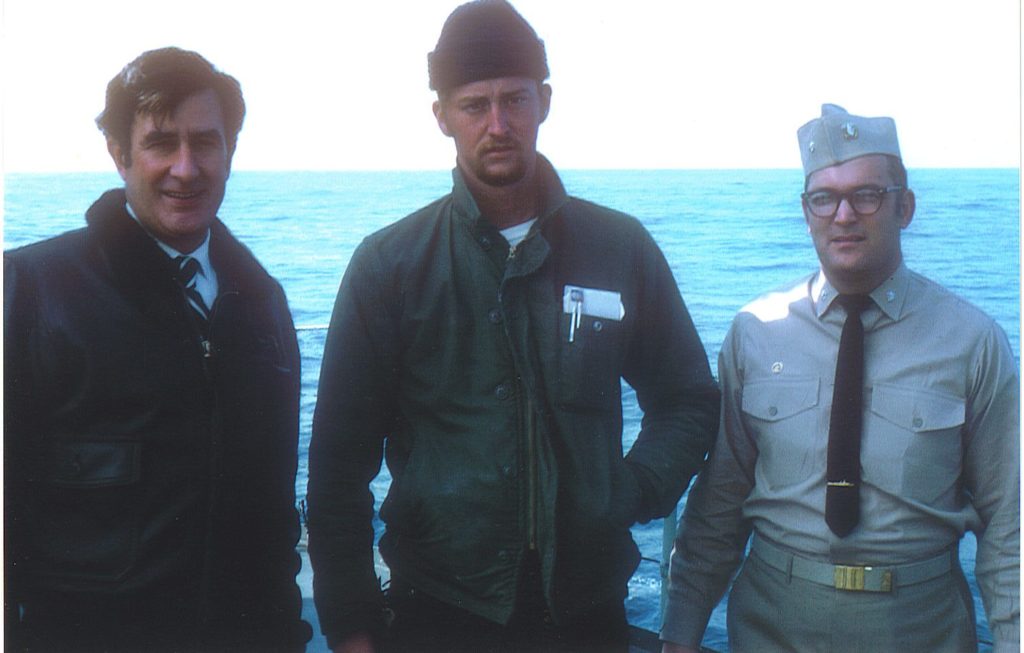 From:Ralph HeimlichTo:Chuck WhelanSent: Tuesday, December 30, 2008 9:27 AM Subject: Re: Med Cruise 69-71
Hi Chuck,
Nice pictures. I think the bearded red haired guy to the left in the first pic is SN Carlson, and the guy in glasses partially behind the other guy might be FTG3 Scott, but I'm making these IDs from some old grainy black and whites in the Warrington's last cruise book, so no guarantee.
You might send them to some of the reunion folks at http://www.usswarrington.com/index.htm
or ask Bruce Helmboldt, who has the website http://www.geocities.com/Pentagon/9539/
to post them and ask if anyone can ID them.
Ralph Heimlich
Thanks Ralph. I've checked just about all of the websites I can come up with. Did you recognize my mug with Skipper Zirps and Mr. Chafee? Oh, you did hear that Mrs. Zirps is under the weather? That pic with Chafee, me & Zirps. I will be sending it to the Skipper as a present. I guess his cousin saw this pic in Tin Can Sailor paper and they were reunited after 50 yrs. Makes me feel good!    How has life treated you since the days of our Lady W? I hope well! I have Crohn's along with a series of mini-strokes, other wise I would have been to the reunion in DC. I wanted to go pay my respects to a friend of mine that I grew up with. I was the last from our neighborhood to see him alive. He was a Huey crew chief on his last mission and they crashed and he burnt to death. His dad really took it hard. Maybe one of these days we'll have a reunion either in Indy or Chicago. I live in Valparaiso, Indiana, 7 miles from Lake Michigan.    Nice talking to you again Ralph. If you can share a couple of pics please feel free to do so & keep in touch. I email Skipper Zirps and about 8 or 9 others from those that were aboard from 68-72. I was aboard from 69-71.    Have a Safe Happy and Healthy New Year!      Take care,
          Chuck
"The Irish Hot Rod"